Arddangosfa / 1 Hyd – 31 Hyd 2021
Nature Joins The Attack
Gilbert Sabiti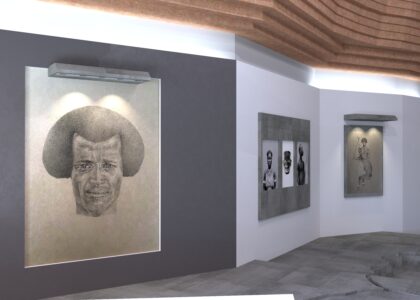 Mae 'Nature joins the attack' yn bennod a gymerwyd o lyfr Chancellor Williams, 'Destruction of Black Civilization.' Mae'n tynnu sylw at ddigwyddiadau naturiol a heriodd gynnydd y diwylliant du hynafol. Er enghraifft, mae Chancellor Williams yn ymdrin â'r ffordd y mae'r ucheldiroedd yn cychwyn yng Nghanolbarth Affrica ac yn codi tua'r de i lefelau uwch a achosodd i Affrica ddisgyn ar oleddf tua'r gogledd a gwneud i'r Afon Nîl lifo i'r un cyfeiriad. Cyfoethogodd hynny rannau Gogleddol a Dwyreiniol Affrica, yn arbennig Yr Aifft a Sudan, gan wneud Yr Aifft mor gyfoethog o ran cynhyrchu bwyd nes ei bod wedi denu goresgyniad tramor, a effeithiodd ar wareiddiadau cynharaf Affrica.
Cefais fy ysbrydoli gan y bennod hon i greu gofod ddylunio oedd yn canolbwyntio ar rai o'r effeithiau a gafodd y Nîl ar y gwareiddiad du hynafol. Mae'r lle wedi ei rannu'n ddwy ran gyda dyluniadau drwy gyfrwng darluniadau a photoshop ynghyd â chynnwys ysgrifenedig wedi ei gymryd o lyfr Chancellor Williams 'Destruction of Black Civilisation'. Fy nod oedd archwilio traddodiadau diwylliannol cynharaf y gwledydd oedd wedi eu heffeithio a gweld yn arbennig sut roedd gwallt wedi chwarae rhan mewn dynodi statws a llwyth.
Proffil Artist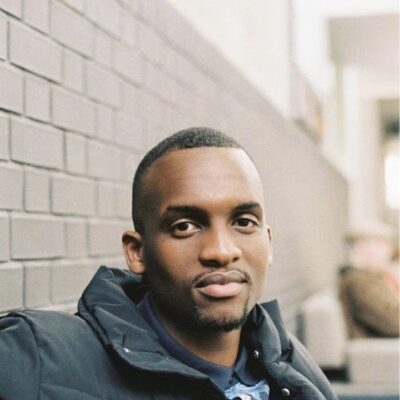 Gilbert Sabiti
Rwy'n ddylunydd graffeg llawrydd aml-ddisgyblaethol wedi fy seilio ym Mryste. Mae llawer o'r gwaith a wnaf wedi ei sbarduno gan y cynnwys a'r stori. Yn ei hanfod, mae adrodd stori wrth wraidd fy nghreadigedd ac mae hynny wedi ei ysbrydoli'n bennaf gan faterion byd. Rydw i'n defnyddio cyfryngau golygyddol a theip i ddarparu'r cynnwys, yn bennaf ar ffurf e-gronau.