Arddangosfa / 1 Hyd – 31 Hyd 2021
Between The Trees
Abby Poulsen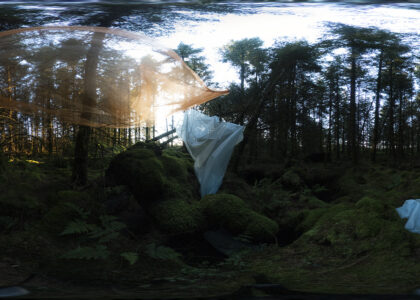 Mae Between the Trees yn ymatebiad safle-benodol i Lyn Llech Owain - llyn ar ben bryn yng ngorllewin Cymru a ffurfiwyd, yn ôl chwedloniaeth, wedi i Owain Lawgoch anghofio ail-osod llechen fawr a oedd yn dal cronfa o ddŵr yn ôl. Llifodd y dŵr yn wyllt a di-baid i lawr y bryn, a dyna sut y cafodd y llyn ei ffurfio.
Pan darodd y pandemig, cafodd Amy, fel llawer o bobl eraill, ei gorfodi i ail-leoli a symud yn ôl i gartref ei phlentyndod. Cafodd y llyn rhwng y coed ei ail-greu fel man i chwarae, dychmygu a dianc.
Proffil Artist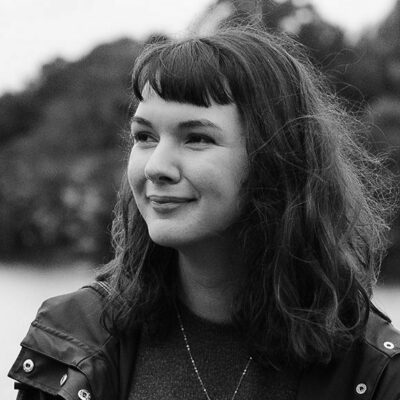 Abby Poulsen
Abby Poulson is a photographic artist born and raised in Carmarthenshire, Wales. Employing cameraless techniques, alternative processes, installation and sculpture, Abby uses her process broadly and experimentally to explore ideas surrounding her homeland, whilst also responding to
Welsh identity, environmental concerns, the rural, memory and place. Abby is also a practicing curator and creative producer, and has been exhibited and published throughout Wales and the United Kingdom.