Exhibition / 1 Oct – 31 Oct 2021
Truth in Fire
Tim Georgeson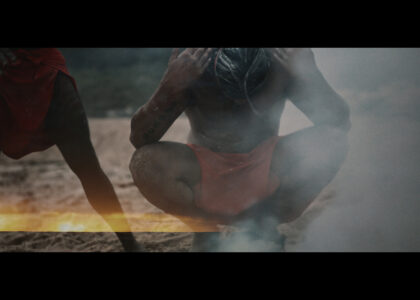 At the end of 2019, filmmaker and photographer Tim Georgeson embarked on the project Truth in Fire in response to the catastrophic bushfires of the South East Coast of Australia. Using moving image, sound and photography Georgeson captured the environmental impact of an unprecedented number of fires initiated by thunderstorms across the Yuin Nation. Featuring in this exhibition, the works Requiem for a forest and Anthropomorphosis communicate the deep sense of loss felt by First Nations people and their path toward the healing of Country.
Georgeson extended the project in 2021 when he met Victor Cooper (Guruwalu), a Minitja man, while travelling to Kakadu in the Northern Territory. Here the artist experienced the sensitive interplay between Aboriginal people and Country through cultural burning, practices that are founded on over 65,000 years of intergenerational knowledge. Georgeson's images convey the use of fire in maintaining and revitalising an ecological balance, as well as its role in the regeneration of plant species.
Through the mediums of film, photography and sound, we move from death, the Requiem left in the wake of this catastrophic event, to the Renaissance of new life and rebirth that the life cycle always brings. Inside these apocalyptic landscapes and transformational ceremonies, we engage with the First Nations' connection to country and feel the importance of trusting the wisdom of their ancient practices.
Truth in Fire hopes to inspire cross-cultural understanding, support international climate movements and give a push for new legislation that allows for Australian First Nations people to participate in important ecological decisions - making around crucial survival issues.
These First Nations fire practices are the beacon of global sustainability for our ecological future.
I would like to acknowledge and thank all Australian indigenous communities involved in this project for sharing knowledge.
About Artist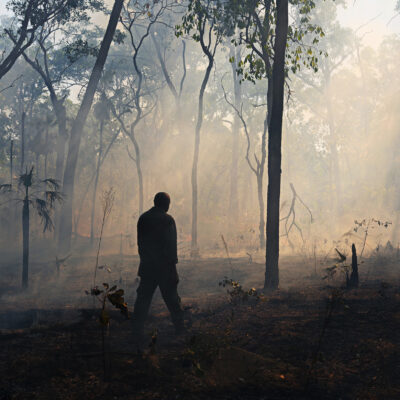 Tim Georgeson
Tim Georgeson is an Australian visual artist, filmmaker and photographer. His experience shooting in humanitarian zones and on the streets of the world has given him unique insights into environmental crises, diverse cultures and aspects of the human condition that are often hidden.
Creating emotionally powerful work, Georgeson has been celebrated in the arts, the media and film industries with acknowledgments and awards from World Press Photo, Leica Camera, International Centre for Photography (New York), Cannes Lions and National Geographic. Georgeson has exhibited in solo and group exhibitions in France, UK, Japan, Holland, The Czech Republic, Canada, USA and Australia. His works have been acquired by the National Portrait Gallery of Australia, regional galleries in New South Wales and private collections across the globe.
The artist is represented by Olsen Gallery, Sydney.