Exhibition / 1 Oct – 31 Oct 2021
Truth in Fire
Tim Georgeson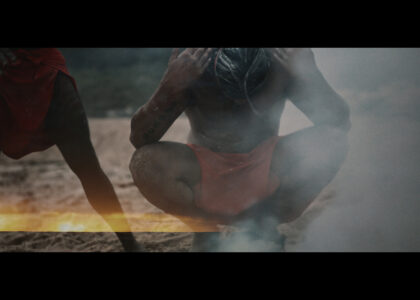 Aboriginal people knew these fires were coming a long time ago. People chose not to listen. They didn't look for the signs. There were plenty of signs given to us and we knew that something was going to happen… Fire is one of our elements. We respect the earth, the air, the water and fire. Without fire we wouldn't survive. (Yuin Nation Elder Vivian Mason, February 2020)

In response to the catastrophic bushfires of the South East Coast of Australia in the summer of 2019-20, Australian Tim Georgeson embarked on the project Truth in Fire. The Black Summer fires engulfed around 24 million hectares of natural habitat, agricultural and urban environs across Australia. Thirty-three people lost their lives, and it is estimated several billion native mammals, birds and reptiles died – excluding infinitely more insects. In consultation with Indigenous Fire Keepers, Georgeson captured the environmental impact of an unprecedented number of fires initiated by thunderstorms across the Yuin Nation. Using moving image, sound and photography the artist communicates the deep sense of loss felt by First Nations people and their path toward the healing of their communities and Country through transformational ceremonies.
Fire is integral to the cycle of many plant species in Australia, but it is the timeliness and severity of the heat that determines optimum conditions for regeneration. Extending the project in 2021, Georgeson travelled to Kakadu in the Northern Territory where cultural fire practices are founded on over 65,000 years of unbroken, inter-generational knowledge. Meeting Victor Cooper (Guruwalu), a proud Minitja man, the artist witnessed the sensitive interplay of Aboriginal people with Country through 'cool' burning. These images convey the human application of fire to maintain and revitalise ecological balance, as well as marram, or avian species, which co-opt fire practices to forage for food.
Truth in Fire hopes to inspire cross-cultural knowledge exchange and support international climate movements. In Australia, a collaborative approach to land management, which respects Indigenous knowledge of Country and cultural fire practices, offers a significant model for the continuance of ecological biodiversity.
Tim Georgeson acknowledges and thanks the Yuin, Minitja and Murumburr First Nations people of
Australia for inviting him into their world and sharing their knowledge. The artist acknowledges these traditional custodians of Country and their continuing connection to the land, culture and community. Georgeson offer his respect to Elders past, present and future. Sovereignty never ceded.
Artist's Statement
The Truth in Fire project was fuelled by my passion to work with First Nations Fire Keepers and an Indigenous Council to help tell a much-needed story that benefits all humans, all life, and our survival on planet earth. Witnessing their fire story in their own words, by their own people, in their own lands opens a secret world and offers a new worldview that could positively impact our struggle with climate crisis and global survival.
Inside these apocalyptic landscapes and transformational ceremonies, we engage with the First Nations' connection to Country and feel the importance of trusting the wisdom of their ancient practices.
Truth in Fire hopes to inspire cross-cultural understanding, support international climate movements and give a push for new legislation that allows for First Nations people to participate in important ecological decision-making around crucial survival issues.
About Artist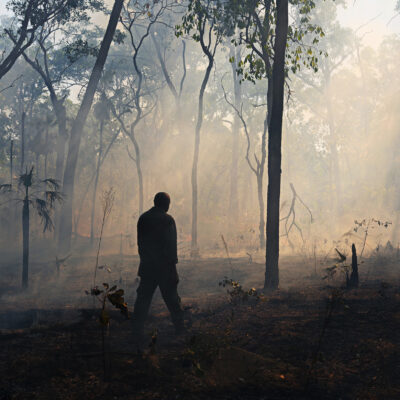 Tim Georgeson
Tim Georgeson is an Australian visual artist, filmmaker and photographer. His experience shooting in humanitarian zones and on the streets of the world has given him unique insights into environmental crises, diverse cultures and aspects of the human condition that are often hidden.
Creating emotionally powerful work, Georgeson has been celebrated in the arts, the media and film industries with acknowledgments and awards from World Press Photo, Leica Camera, International Centre for Photography (New York), Cannes Lions and National Geographic. Georgeson has exhibited in solo and group exhibitions in France, UK, Japan, Holland, The Czech Republic, Canada, USA and Australia. His works have been acquired by the National Portrait Gallery of Australia, regional galleries in New South Wales and private collections across the globe.
The artist is represented by Olsen Gallery, Sydney.