Exhibition / 27 Sep – 24 Oct 2021
Tin Works
Hilary Powell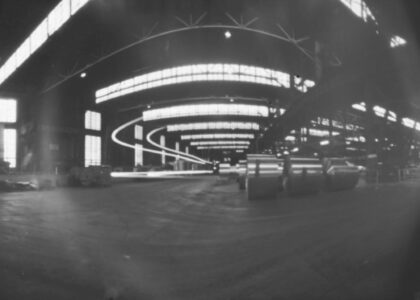 Industrial worker's tintype portraits made on the industrial/domestic material of tin.
Landscapes of industry captured in tin can pinhole cameras.
A revolution in early photography fuses material and meaning, creating precarious stacks of cans/faces in a metallic, manufactured landscape.
The last Tin Works in South Wales has worked flat out through the pandemic to meet the massively increased demand for canned goods. This project is a journey into this contemporary socio-economic landscape and industrial/domestic history of tinplate. The work was prompted by Powell's own family lineage of Welsh tin workers. As a boy in the 1950's the artist's father watched the photographic processes used to imprint the tin for branded packaging and witnessed the demolition of the area's former tinworks whilst her Great uncle invented a gauge for measuring the thickness of tinplate. The projects continues a fascination with an alchemy of metallic history where material, context and concept coalesce, reinvigorating the historic technique of tintype photography to record a contemporary landscape in transition.
Site/material specific portraits are exposed onto tin cans using the wetplate process where a positive is created on the lacquered sheet of metal coated in a light sensitive silver collodion solution. The images/objects produced stand in reference and juxtaposition to Warhol's famous cans. If his spoke to commodity, mass production and manufacturing these tin image/artefacts speak to a material, social history and labour through direct collaboration with the industry, working community and the material they deal in.
About Artist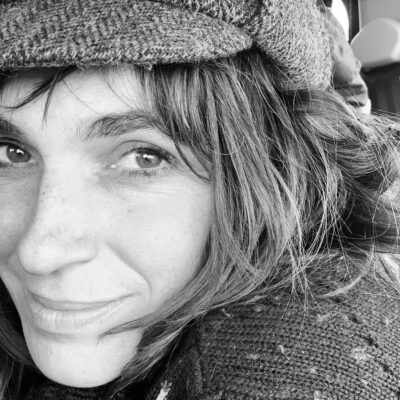 Hilary Powell
Drawing on a family history of labour (manufacturing, agricultural and domestic service) Hilary Powell's work makes visible and visceral hidden histories, stories and struggles through a practice of 'thinking through making.' Whether through chemical print experiments or collective roller skating, material and meaning come together in a process of gleaning and gathering together in collective acts of salvage and experimentation.
From subverting Wagner's epic Ring Cycle for a landscape of waste and wild beauty to an erupting pop-up book history of the London Olympic site, Powell's work involves a deep engagement with urban sites and their history, materials, people, poetry and politics. She is emerging from a collaborative Bank Job project (www.bankjob.pictures) encompassing film (Grierson 2021 shortlisted documentary), printmaking, participation, community, a book, metal casting, debt abolition and explosions that leads directly into its sequel POWER – exploring the power of community, art and the sun (www.power.film).