Exhibition / 1 Oct – 31 Oct 2021
PARADE
John Meirion Rea, Huw Talfryn Walters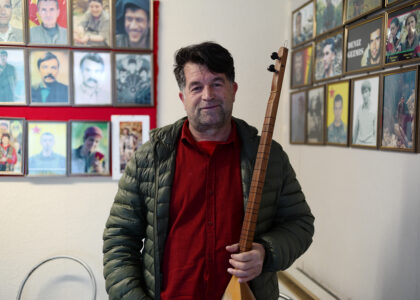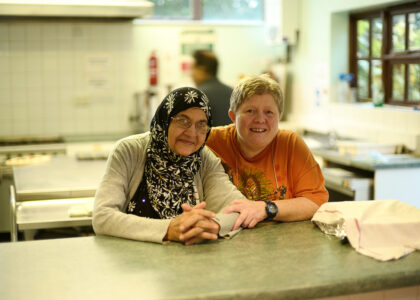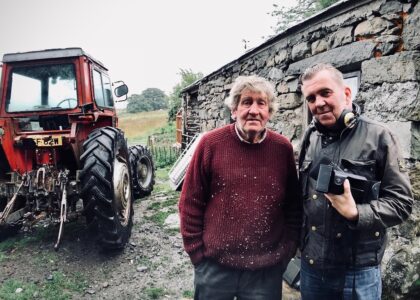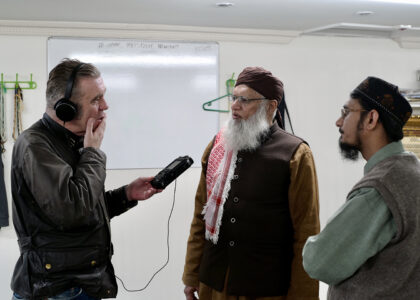 PARADE is an exhibition of work from an original immersive multi-media installation, commissioned by Maindee Library, and The Arts Council of Wales.
"The centre of the City is where the old monuments are, but not, for the most part, people's lives....." Guido Guidi.
My creative work is inspired by the voices of the people of Wales. My focus has been on the melodic nature, and textures of diverse dialects and languages; particularly our native Welsh and Anglo-Welsh dialects, and how they are mirrored in, and defined by our environment.
I spent time in Maindee, Newport, where I met and listened to people's stories, alongside cinematographer and photographer Huw Talfryn Walters. Having got to know many of those who live, work and worship there, and capturing hours of film, interviews, and responding to its sounds, I presented this vérité material both as a site-specific immersive installation: a collective experience sited in the community; and as an online portal: a more intimate 'one-to-one' relationship.
The truths and realities that emerge, seen collectively, convey a strong sense of place, and what it means to belong, and the reality of living in urban South-East Wales. It is a snapshot of life in Maindee, as we encountered it in 2019.
Taking a cinéma vérité approach, influenced by documentary film maker Pierre Perrault, the work is concerned with the social and political implications of what is captured on film.
About Artists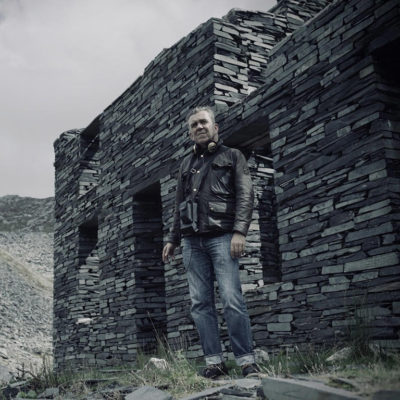 John Meirion Rea
John is a composer and multi-disciplinary artist based in Cardiff. His work is deeply rooted in Welsh culture and landscape, and in cross-cultural connections and collaborations. His interest is in responding to place, community, and in exploring new interdisciplinary approaches of presentation.
In 2018 John presented a significant site-specific work in collaboration with St Fagans National Museum of History's archives, and The BBC National Orchestra of Wales, combining the historical recordings with composed musical narrative, and film. This was later re-imagined for a Ffotogallery commission for Diffusion's 'Sight & Sound' Festival in 2019.
John is currently developing a multi-discplinary collaboration with renowned percussionist Dame Evelyn Glennie; a 'spectral' influenced work combining immersive sound, with performance and sound-reactive film.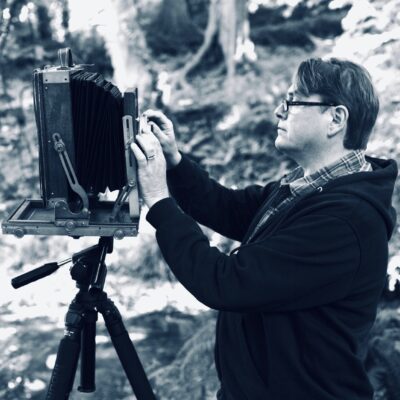 Huw Talfryn Walters
Working with John Rea on this project was a rare opportunity to bring moving pictures and the still image together. I've known John since our school days and collaborating with him on this and previously on Atgyfodi has been a wonderful departure from my commercial work. It's a chance to communicate with a camera in a totally different and sometimes random way that is quite liberating.
As a cinematographer, I have three Bafta Cymru awards but my first love is Large Format photography, often using long out of date materials like Polaroid type 55 film and making Platinum Prints. My subject of choice is the Welsh Landscape.