Exhibition / 1 Oct – 31 Oct 2021
Chelwek
Chelagat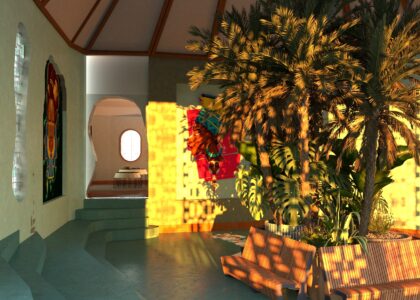 In collaboration with PAWA 254 and Ffotogallery we came up with a concept of how I envision my space and how my paintings fit into the space to effectively tell my story.
Gentil (entrance pieces)
Be kind - it costs nothing, then you are welcome to my "Shrine" that's my space as I share more essence with you my paintings are part of me, and these pieces just welcome you to my world… to my space.
The African Essence.
This is to acknowledge that everyone we encounter and every living thing we come across with has some effect on us in one way or the other. It's to celebrate that every living thing has god essence in them and being based on the African soil I chose to name it the African essence. The mask I have done just cover the mysteries of the spiritual aspect of life… and celebrates the beauty and colours of my Africa.
Mother of Creation.
In celebration of life and the continuity of life mother of creation series celebrates motherhood and the beauty of it. The flowers represent this aspect of continuity as flowers carry the 'seeds' of the plant. The ladies in the pieces remain calm regardless and this is just to show the strength they possess to carry out the task that has been placed on them by nature.
About Artist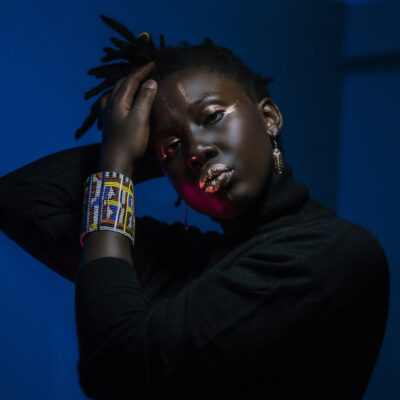 Chelagat
Chelagat was born in Nairobi, Kenya in 1992.
She works primarily in the medium of painting; acrylics on canvas and paper.

She also uses aerosol paints and digital illustrations in her expressions.
Professional Background
Chelagat attained her Bachelors degree at the University of Nairobi in 2015, where she studied design and majored in Illustration.
She has exhibited some of her pieces at the Alliance Francaise Nairobi, Subtopia studios in Sweden, Kerry Civic Parker gallery in Australia, Logale house in Juba, The Baobab house in Juba, the Bega kwa Bega arts collective in Babadogo, Ibuka in the Univeristy and for street art the walls of Kerry Civic parker gallery in Australia, Uganda National Museum Kitintale skating park (Kampla), mamba in Kigali, Jericho, Eastleigh and many more.

The main themes that she tackles are on culture,
spritualism and identity. She makes use of symbolism, colour and patterns to set the tone of each painting.