Project
Antonia Osuji & Coffee and Laughs Portraits
Coffee and Laughs
Antonia Osuji (b. 1998) is a documentary photographer from the UK, living in Wales. Currently, she is in her third year studying a BA Photojournalism and Documentary Photography course at UWTSD. Her interests and work lie in cultural anthropology and inclusivity. Past projects such as Commonalitŷ and Family Portraits (Between Two Fires) focus on cultural differences and inclusion of all races and ethnic backgrounds.
​She is currently working an internship with RCC (Race Council Cymru).
Antonia worked with the women from the Coffee and Laughs group at Community House in Newport to explore and develop photography techniques. Starting with a visit to the beautiful Dyffryn Gardens, the women used digital cameras, as well as their own phones, to capture floral scenes. They experimented with apps to create different effects with their images and played with paper and flower collages. The group even had a go at creating pinhole cameras and capturing some almost abstract images of the Peace Garden at Community House.
All of the group's images were then collated into a collaborative folder where a selection was made for an exhibition. These same photographs were also used to create spectacular bunting with photos on each pennant which decorated the Community House for Maindee festival.
About Artist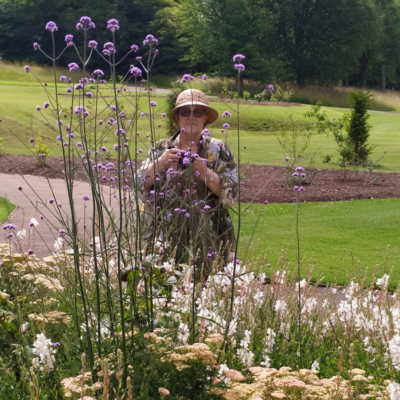 Coffee and Laughs
Coffee and Laughs is a charity and friendship group for women of all ages, faiths and cultures. The group runs regular workshops and trips with the community. They also support local charities including the Alice Foundation and Baby Bundles.
The group have worked together on several award-winning community arts projects with artists including Marion Cheung, Naseem Syed, Antonia Osuji and most recently Maryam Wahid.
Coffee and Laughs meets every Thursday and is run from Community House in Maindee. They meet for friendship; sharing ideas; sharing problems; wonderful embroidery; doing craft work for charity; learning English or IT skills; visiting places of cultural interest; learning international cooking with women from all faiths and none.
Community House is known as a multi-cultural, multi-faith community centre in Newport, serving the neighbourhood of Maindee and beyond. Their mission is to build a stronger, caring community together. They do this through the power of communication, learning from each other and working together peacefully.
Community House brings people together from all ages, backgrounds, races and religions. Whether that's laughing over a cup of coffee, fundraising for charity or cooking together, we are always welcoming new ways to connect with people.